Ford Service Center | Auto Repair

Like to save money? Get $25 off service (via mail in rebate) when you use the Ford Service Credit Card on a purchase of $250 or more!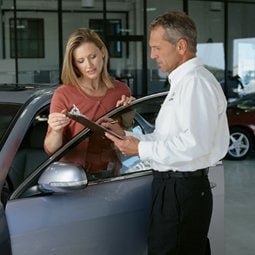 You'll Find the Best Ford Care in West Chicago, IL
Whether your Ford is new or one you've been driving it around Wheaton, IL for a few years, it's never too late to give it the routine maintenance it needs to get years of reliable service from it. Even if you've fallen behind on your maintenance schedule, there are some easy ways to get back on track.
Engine Care
There are a lot of services that fall under the umbrella of engine care, but the most important one is an oil change. If your engine can't perform efficiently on your journey through Geneva, IL, it will run hotter and use more fuel than it should. Keeping your oil clean with regular changes means your engine doesn't have to work as hard, extending its lifespan in Aurora, IL. Other engine care includes regular inspections to catch fraying belts, weakening gaskets, a struggling battery, corroding wires, split hoses, or any of dozens of other harbingers of trouble that could leave you stranded when ignored for too long. An ideal time to get an engine inspection is when you're planning a road trip or getting ready for the summer or winter driving seasons.
Braking System Maintenance
The converse of a vehicle that can accelerate efficiently is one that can stop on a dime when necessary. You never want to be behind the wheel of a vehicle with malfunctioning brakes in Naperville, IL, so staying vigilant on routine service and the signs of trouble will help you avoid most issues. Your brake pads are the most common replacement, one you'll need to schedule every couple of years unless you put excessive mileage on your Ford or you spend a lot of time commuting in congested traffic. Replacing the fluid in your hydraulic system or smoothing warped rotors are maintenance tasks you'll need done infrequently or not at all.
Tire Service
Whatever work you put into your tires will be amply rewarded with years of reliability and a smooth ride. You can check your tire pressure manually or consult your dashboard readout if your vehicle offers one to make sure you're not contributing to uneven tire wear by driving on improperly filled tires. You'll also want to get a tire rotation every six months or so to allow every tire to take a turn in a high-demand position like the front left tire. You can avoid some of the causes of flat tires just by avoiding uneven wear. If you notice excessive vibration at high speeds or your steering wheel pulling right or left while driving, you may need an alignment.
Long Term Repairs
Depending on how long you own your Ford, you may encounter some rare but necessary maintenance tasks along the way. Most of the services in this category only need to be done every 50,000 miles or more, so a typical driver can go several years without having to think about them. Many long-term maintenance centers around replacing the fluid in the transmission, coolant system, or transfer case. Belts like your serpentine or timing belt can cause real damage if they fail, so following the set schedule for replacement helps avoid a catastrophic expense. You may also need to replace your spark plugs, get your shocks and struts inspected or have some work done on your differentials.
When you bring your Ford to West Chicago, IL, you can expect the highest standard of care from technicians who specialize in Ford maintenance. We always utilize parts right from the manufacturer when we can, ensuring that your repair or service visit results in the highest quality result whenever you visit. If you want the best care for your Ford, schedule your next service appointment with Haggerty Ford.