Haggerty Ford Dealer in St Charles, IL

If you are in the market for a car then you have landed in the perfect place here at our Ford dealer in St Charles, IL. Here we will not only get you the best deal on a new or used car but we are also committed to helping you maintain that car long after you have driven off of the lot. There is a multitude of choices but we are here to help guide you through those choices so you go home with the best vehicle for you and your family. 
New or Used?
Most of our fine customers that come through the door here at our Ford dealership near St Charles, IL ask us, "should we get new or used?" That is a complicated question with many different variables and we would be more than happy if to discuss that if you stop in to have a chat with us. 
Regardless of the answer, we have many of the latest Ford models to hit the market. This includes the Ford F150, Ford Fusion, Ford Escape, Ford Explorer, and Ford Focus. 
If you feel that you want to look at the used cars then we would be more than happy to assist you. One advantage of buying used is that most models and trims are available in any configuration you could possibly want. 
Our used vehicles consist of a great lineup including many models of Fiesta, Ford EcoSport, Ford Fusion Hybrid, and the Ford Mustang if you are in need of something sporty. No matter which model or trim you have in mind, we should be able to provide you with it. 
Come down to our Ford dealer in St Charles, IL, relax, look around, and maybe sit in a couple of cars. There is no pressure and you can be sure that no matter which car you have landed on our service department has thoroughly gone over an inspected every inch so you can be sure your machine will operate at the top possible level when you drive off the lot. 
Looking to Trade Up?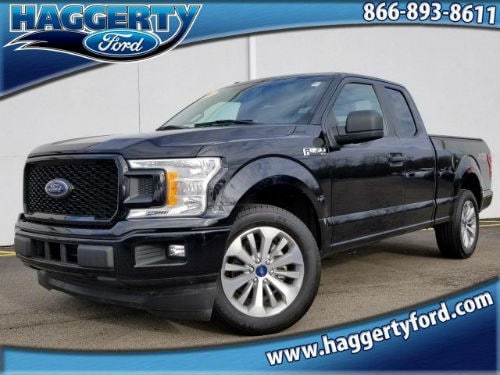 If you are coming to us to trade in your current vehicle for something better than our team is here to help. Here at Haggerty Ford dealer in St Charles, IL, we are dedicated to giving you the best deal possible on any trade. We will value your trade-in not only competitively, but also fairly. The team that values your trade-in is the same people that will service your vehicle after you leave with a new or used car or truck. Our service department only works with Ford-approved products and they have years of experience that is sure to result in many worry-free miles. 
Here at our Ford dealership in St Charles, we have an expert team of expert auto finance specialists who will walk you through the process of applying and getting approved for a loan with the utmost ease. It is one of our greatest pleasures to assist the people of St. Charles, IL in getting the car they need. We are committed to getting you the best loan you can get so you can walk out the door not only happy but you will also be sure of our integrity and dedication. 
Make getting a new car easy. We always expect you to leave here happy. This is the culture we have instilled in our employees. They have been trained to always treat you with the utmost dignity and respect so that when you leave, you are absolutely sure to come back. Please come down to Haggerty Ford dealer in St Charles, IL so we can get you into the car you have always wanted.