Haggerty Ford is your Ford Dealership of Choice Near Chicago

Benefits of Choosing Our Dealership 
If you're looking for a Ford dealership in Chicago, then look no further. When it boils down to the best Ford prices, we here at Haggerty Ford have some of the best out there - for both new and used inventory. We only source the finest Ford vehicles from around America and bring them together in one place for your perusal and buying pleasure. 
Every month we make countless sales to our wonderful and loyal customers in Chicago, supporting their requirements and finding what's perfect for them, without unnecessary bartering. 
We don't just support you in buying or leasing either - when you roll out of the dealership with your new Ford, we'll support you down the road, every mile of the way. This article lists just a few examples of why we're so proud of what we do. 
Phenomenal Range of Vehicles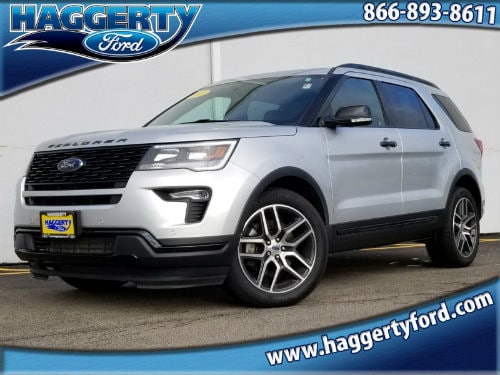 We source vehicles from all over the country to bring together a selection of inventory that will make any Ford fan smile. Trucks, SUVs, convertibles, sedans - we have a wide range of vehicle types and models for you to check out. 
If you want a quality pre-owned Ford dealership in Chicago, you'll be hard-pressed to find better deals and vehicles. Perhaps you want the muscle of a Mustang, or the pulling power of an F-150, or the practicality of a Focus - we cycle in new inventory every week with only the best of the best that Ford has to offer. 
If you want something brand new, we stock vehicles fresh off the production line too, eager for a test drive and first owner. Compared to many other Ford dealerships, our prices slash what you'd expect to find by thousands of dollars - we're not in the business of overcharging your hard-earned dollars. 
No Messy Financing 
You can apply for financing on our website in a quick, simple, and safe process. We know time is precious, so we get a lot of the paperwork and forms done before you even arrive at our dealership. When you get here, you'll just have to sign the papers and you'll be riding away on the roads of Chicago, IL before you know it. 
Our exceptional lease payments are ideal for those who don't want to outright buy a vehicle, and if you want to trade in your old car for some credit towards a new purchase. Just value your trade on the site using or trade-in tool, and if you need help there's always the live help chat - it only takes a few minutes to sort out. 
Teams of Professionals Working Just for You 
There are too many Ford dealerships Chicago who consistently push their customers into purchases that they don't really want, that doesn't work for them, or hide information about vehicle history and fees. This isn't acceptable to us, which is why we're transparent about what we do here at Haggerty Ford. We'll put you at ease with our friendly staff and make you get something that's right for you. 
Interested in getting to know who we are beforehand? No problem. You can find a list of our staff including salespeople, managers, and service experts on our website, complete with reviews from customers and short bios to learn more about them. 
No Maintenance Job Too Small 
Haggerty Ford doesn't just stop at selling you a vehicle. We make sure you're safe on the road and fully functional too. When life throws surprises at you and your vehicle, we're here to put things right. 
You can schedule service on our website in a quick and easy booking process. One of our certified expert mechanics and technicians will organize a multi-point inspection or check-up for your vehicle. 
We use only the best certified Ford parts and offer a variety of services - from the most routine tire changes to full engine works. There's no job too small if it's doable! 
Our service across all aspects of our dealership impresses almost every customer that we serve, and that's something that makes us happy. Therefore, if you're looking for a Ford dealership in Chicago - or even if you're in the surrounding areas such as Aurora, Naperville, and Wheaton - we'll get you fixed up or rolling away in a new Ford at our Haggerty Ford dealership.