Ford Edge Lease Deals Near Chicago - Why They're Essential

If you're looking for an efficient sports utility vehicle, a Ford Edge lease deal near Chicago will suit you best. Owning one too will not be a hassle. All you need to do is know which Ford Edge lease deals Chicago will be great for you. Why lease? It'll be a less stressful process compared to buying. You'll also be able to get value for your money.
You'll find that nowadays, leasing has become a popular financing option. It's a great alternative depending on your lifestyle and requirements. Below are some qualities to look for in Ford Edge lease deals Chicago.
The Performance
With a 2.7L EcoBoost engine, the Ford Edge has everything to offer. This engine delivers the best torque, horsepower, and pick up that you'll ever need. The dynamic twin turbos allow you to switch in the fast lane without any hurdles.
Besides, to make the car lighter, the engine is made from a single block of compact graphite iron. The lightweight makes it possible to attain the impressive 335 horsepower from the engine. As for the torque, you have 380 lb.-ft.
Technology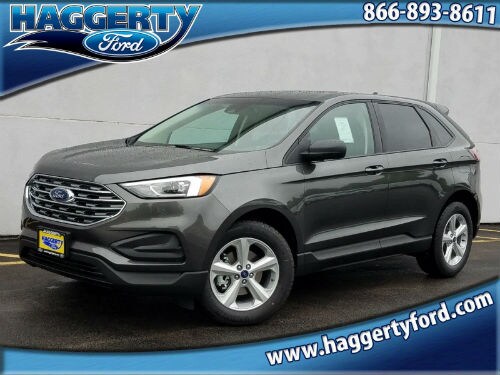 Push Start
Push to start will be one feature to enjoy in the Ford Edge lease deals Chicago. This feature allows you to have keyless entry to your car. Likewise, it ensures that you won't need a key to start or stop the vehicle. All you'll need to do is press the "Engine Start" button, and you're good to go.
Auto Start
Auto start and stop is another reason for choosing Ford Edge for lease near Chicago. The technology is available from the standard 2.0 L version of the Ford Edge. It allows you to save some fuel on stop signs by shutting off the engine. The engine turns on after pressing your foot on the gas pedal.
Driver Assist
Driver-assist allows you to maneuver your way across the traffic safely. You'll get notifications about cars which are beside you to avoid hitting them during a lane change. Therefore, you'll increase your awareness of the road and boost your confidence.
Parking Assist
Besides this, you have parking assist features. Your Ford Edge will be able to search for the best parking locations and safely navigate its way around. For tight spaces, you needn't worry - the car will manoeuvre itself in your desired parking spot.
Cruise Control and Stop-and-Go
Cruise control and Stop-and-Go will be other technology features that'll make you choose Ford Edge lease deals Chicago over any car. With Stop-and-Go, you'll be able to bring your vehicle to a safe stop whenever the traffic slows down.
Adaptive cruise control, on the other hand, allows you to set the pace depending on the car in front, automatically.
Smart Sound System 
The new Bang & Olufsen system in the Ford Edge will let you enjoy all the music you love. It'll act as your studio - thus allowing you to play music from your phone. Also, you'll enjoy the immersive sound experience of your Ford Edge.
FordPass
Technology makes it easier to access and secure your car. With FordPass, you're able to lock and unlock your vehicle remotely. You can view whether you remembered to lock your car directly from your phone. It'll be an app for that'll make you enjoy Ford Edge lease deals Chicago.
The Design
If you love a bold design, you're bound to love the Ford Edge. It'll naturally be noticed while on the road due to its unique presence. The availability of the smooth lines and a dynamic grille give the Ford Edge an aerodynamic shape.
The attention to detail on the interior of the Ford Edge makes it more comfortable. With professional craftsmanship, you'll be able to enjoy the quality of the interior. In return, the modern look with a refined instrument panel is something to adore in the Ford Edge.
Enjoy Your Ford Edge
If the lease terms fit into your budget, you should proceed to agree to the Ford Edge lease deals Chicago. It'll be ideal knowing whether there are some delivery options if you'd not prefer driving off the dealership. Doing so saves you time since you won't waste your time getting any upsells in the Ford Edge lease deals Chicago.